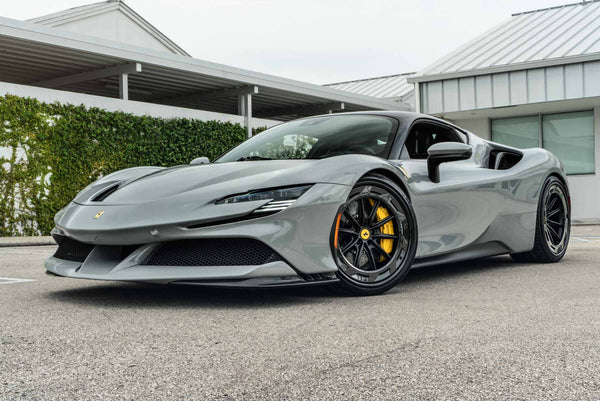 Experience Unmatched Precision and Performance with MVForged Wheels for the Ferrari SF90
When it comes to pushing the boundaries of automotive engineering, the Ferrari SF90 stands in a league of its own. To complement this exceptional masterpiece, MVForged Wheels offers a range of precision-crafted wheels that enhance the SF90's performance and aesthetics. In this blog, we will explore why MVForged Wheels are the perfect choice for discerning Ferrari SF90 owners who crave the ultimate driving experience.
MVForged Wheels excels in creating lightweight wheels that maximize performance. By utilizing advanced forging techniques and premium materials, they have achieved an impressive strength-to-weight ratio. The reduced unsprung weight improves acceleration, cornering, and overall handling, allowing the SF90 to unleash its full potential on the road or track.
Superior Engineering:
Every MVForged wheel is a result of meticulous engineering and craftsmanship. With a focus on precision and performance, these wheels are designed to complement the SF90's cutting-edge technology. Through extensive research and development, MVForged Wheels ensures that each wheel is optimized for strength, stiffness, and aerodynamics, delivering a seamless integration with the SF90's advanced systems.
MVForged Wheels understands the desire for personalization, allowing SF90 owners to create a truly bespoke look. With a variety of finishes, custom paint options, and unique wheel configurations, you can tailor your MVForged wheels to suit your individual taste and make a bold statement on the road. Stand out from the crowd with a set of wheels that truly reflects your style and personality.
MVForged Wheels offers the perfect combination of performance, engineering, and style for Ferrari SF90 owners seeking the ultimate driving experience. With their lightweight construction, superior engineering, exquisite designs, and uncompromising quality, these wheels elevate the SF90 to new heights.

Experience the precision and performance that MVForged Wheels brings to the iconic Ferrari SF90, as you carve through corners and ignite the passion for driving in its purest form.
Wheel Style: MV Forged AR-100
Diameters/Widths: F21x9.5" – R22x11.5"
Series: AERO+®
Construction: 3-Piece Forged
Weight Reduction: Pocketing | Undercuts
Finish: Satin Jet Black
Cap/Badge: OEM Ferrari Cap
Hardware Material/Finish: Hidden Titanium