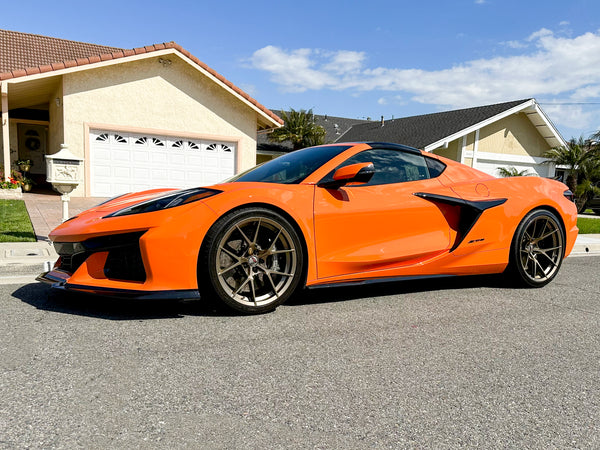 ForgedLite MC5 Wheels: Unleashing the Ferrari Killer - Amplify Orange Corvette C8 Z06
The Forgedlite MC5 wheels in the 20x10 and 21x13 sizes are a stunning addition to the new Amplify Orange Corvette C8 Z06, transforming its appearance and performance to a whole new level. These wheels are meticulously designed with lightweight forged materials, ensuring enhanced handling, improved acceleration, and reduced unsprung weight. The bold Split 10-spoke design not only adds a touch of aggressiveness to the Corvette's stance but also optimizes airflow for better brake cooling and overall aerodynamics.
With the Forgedlite MC5 wheels, the Amplify Orange Corvette C8 Z06 becomes a true "Ferrari killer" on the roads. Its superior grip and traction allow it to effortlessly hug corners, delivering a dynamic and exhilarating driving experience. The combination of the lightweight wheels and the powerful Corvette engine results in lightning-fast acceleration, rivaling even some of the most iconic supercars. Whether it's on the track or the open road, the Corvette C8 Z06 equipped with Forgedlite MC5 wheels proves to be an unstoppable force, setting new benchmarks for performance and style.